Top 5 New Year's Resolutions For Young Drivers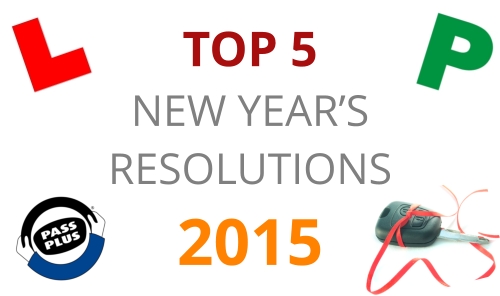 Hip, hip, hooray, it's 2015! A time for optimism, excitement and the all important New Year's resolutions. Now you may have the resolve to keep a brand new exercise regime or diet that you've been conscientiously avoiding for the past few months. Alternatively you could adopt the driving-related promises highlighted in this encouraging New Year's blog.
Pass Your Driving Test

If you're really keen to gain a greater sense of independence in 2015 then you should learn how to drive. You can make the learning process as smooth and enjoyable as possible by signing up for driving lessons with Road Masters. Master the motoring manoeuvres, learn the theory and look forward to ditching the L plates.

Buy A Car

There's a fair chance that you'll be feeling the financial pinch after taking driving lessons and finally sending off for your full driving license. However, you may be surprised at the availability of cheap and reliable motors advertised via the specialist websites and newspaper classifieds.

Learn About Vehicle Maintenance

Do you know how to check the tyre pressure or check the engine fluids of your vehicle? If the answer is no then you would be well advised to sign up for a local car maintenance course. The experts will be able to show you the best means of preventing vehicle breakdowns.

Correct Your Bad Habits

There is very little chance of developing bad habits while under the guidance of the professional Road Masters instructors. However, it's very easy to slip into bad ways after passing your driving test. You should take a little time to reflect upon the safety of your driving. If there's cause for concern then you may sign up for a refresher lesson or take your skills to the next level with Pass Plus.

Stay Safe

Those of you who make the smart option of taking Exeter driving lessons with Road Masters will gain a comprehensive knowledge of road safety. You'll learn the importance of driving according to the road conditions and respecting fellow road users. These tactics will be essential for your safety in 2015 and beyond!